Man who pushed ex-girlfriend off Coventry bridge jailed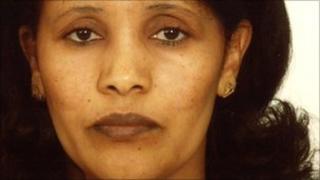 A man who pushed his ex-girlfriend off a bridge in Coventry has been given a life sentence after admitting murder.
Yonas Beraki, 33, was found hurt near the body of Genet Kidane, 41, on the city's ring road near the canal basin bridge in January, the court heard.
Beraki must serve a minimum of 12 years before he can appeal for parole.
The court heard Ms Kidane had told police he had threatened to kill her. The West Midlands force said he was arrested and deported, but returned.
'Malicious act'
The Independent Police Complaints Commission has been looking at the case and said its investigations were continuing.
Ms Kidane and Beraki, who were originally from Eritrea, were seen arguing on the bridge before her body was found on 12 January, Coventry Crown Court heard.
Beraki, who was living in the country illegally, had threatened to kill the victim on several occasions and she had mentioned this to friends, colleagues and police, the court was told.
Judge Richard Griffith-Jones said Beraki's behaviour had been "obsessive".
He told him: "I'm compelled to believe that because she rejected you, you decided she would die... if you couldn't have her, then she couldn't have a life of her own."
Speaking outside court, police said the sentence for Beraki, who jumped in an apparent suicide attempt, reflected "the gravity of his malicious act".
'Deported twice'
Det Insp Martin Slevin said reports were made to the West Midlands force on two occasions of conduct by Beraki against Ms Kidane.
He added: "Those were under investigation, but... he was deported twice during that period and therefore we were unable to trace him during that time period.
"Concerns of the family have been passed voluntarily by West Midlands Police to the Independent Police Complaints Commission."
In a statement released by West Midlands Police, the victim's family said justice had been done and Ms Kidane, who came to England to start a new life, was "kind and gentle".