Coventry housing debt problems 'increasing'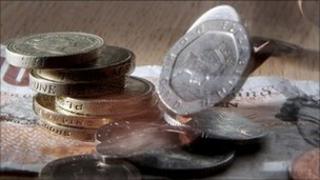 More people in Coventry are seeking services to address debt-related housing problems as they fall on hard times, according to an organisation offering free advice in the city.
"It's just an increasing problem," said Sue Bent, director of Coventry Law Centre (CLC).
The centre said the number of people it has assisted at court in rental and mortgage repossession cases in the first six months of this year had risen by 165% compared with last year.
"It's a sign of the times unfortunately," Ms Bent said. "More people are losing their jobs with people in and out of insecure employment."
Ms Bent's comments are backed up by recent official figures which showed UK unemployment had hit a 17-year high of 2.57 million between June and August. The proportion of the workforce in Coventry claiming Jobseeker's Allowance in September was 5.2%.
Recovering debt
With finite resources, CLC can only deal with the same amount of clients but it has seen welfare benefit enquiries begin to exceed the number of those about debt. Additional pressures come from the loss of other support services and funders.
"The credit companies are also aware there's less money around so they're actually taking more action to recover people's debts," added Ms Bent, who said CLC works closely with other similar organisations such as the Citizens Advice Bureau and Age UK.
"John", a tenant of Whitefriars Housing, the city's biggest social landlord, saw an advisor at CLC last month because he feared he could be evicted. He also had debt issues with utility bills.
When his partner moved out his housing benefit stopped. John said it had been paid direct to Whitefriars and he was not aware he was building up the debt.
But because Whitefriars part funds CLC, he was able to be seen quicker than others seeking advice at the centre.
"I got myself into a bad patch, I couldn't cover all of my bills or anything. Everything's going up and your wages don't," John said.
"I could have been evicted from my home. Then I would have possibly lost my job as well without having a home and everything would have gone very badly. It would have been very frightening."
'Tipping point'
Without the help John believes he would have "turned up to court on the day and pleaded for help in some way but then it would have been too late".
With the increase in demand for advice, Ms Bent fears many with mounting debt problems will slip through the net because they cannot be seen for about eight weeks in some cases.
"Most of them reach a tipping point when they actually think 'OK, I've got to get help'," she said. And if they then have to wait some of them don't come back.
"If you can't respond fairly quickly, then either events overtake them or they lose the courage that they'd built up.
"Dealing with debt's really complicated. The government is saying you don't need legal advice. I would challenge that."
The Legal Aid, Sentencing and Punishment of Offenders Bill is at its report stage in the House of Commons. The bill includes the proposed abolishment of the Legal Services Commission with the Ministry of Justice aiming to cut £300m from the £2.1bn legal aid bill.