Hazel O'Connor backs Myton hospices nurse appeal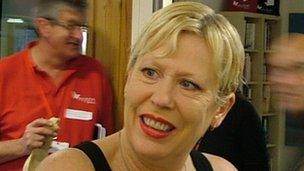 Eighties pop star Hazel O'Connor is backing a hospice fund-raising appeal for more nurses.
Myton hospices in Rugby, Coventry and Warwick offer free care to 2,000 people every year and rely on donations of £7m a year.
The cost for one nurse annually is £30,000. Each new nurse will care for 43 extra patients, the hospice said.
The 12-month appeal is being organised by BBC Coventry and Warwickshire, and people are being urged to get involved.
Jeremy Pollock, managing editor BBC Coventry & Warwickshire, said the station was confident listeners would help as much as they could.
He said: "It's a cause very close to the heart of thousands of people across Coventry and Warwickshire. We're confident our listeners will get behind the Myton nurse appeal - our first target is £30k which will recruit and train one nurse."
Hazel O'Connor said she was supporting the campaign because her mother and stepfather spent time in the hospices after both being diagnosed with cancer.
"Staff try to make you feel that life is continuing," she said.
"Here it's about living, about the moment and about every single moment mattering and that's what they taught me."
Kate Lee, Myton's chief executive, said the nurses gave lots of one-to-one care and attention.
"They're the most amazing bunch of people," she said. "It's a very tough job to be able to make every single patient feel special.
"We'd always like to be able to give lots of one-to-one time - just one more nurse would make all the difference."
Fund-raising packs are available from Myton, and updates about the BBC C&W Myton Nurse Appeal will be broadcast after events and as and when landmarks have been reached.
Related Internet Links
The BBC is not responsible for the content of external sites.