George Eliot Hospital death rates higher than expected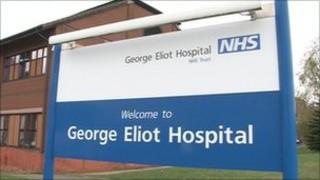 Bosses at a Warwickshire hospital have requested an external review into its mortality rates which are higher than expected according to new measures.
The George Eliot Hospital NHS Trust in Nuneaton has the highest rating in England after 1,024 deaths were observed in the year ending March 2011.
Only 843 had been expected according to a new hospital-level indicator.
Health Secretary Andrew Lansley said figures were a "smoke alarm to prompt further investigation".
"Alongside other data, this will help the NHS in future to spot and act on poor care as soon as possible," added Mr Lansley.
"We are determined to learn the lessons of the appalling events at Mid Staffordshire - this data will help us avoid a repeat of that tragedy."
George Eliot was rated 1.21 by the Summary Hospital-level Mortality Indicator (SHMI).
The SHMI looks at deaths in hospitals and up to 30 days after a patient is released.
The trust's chief executive, Kevin McGee, said he was taking the issue "extremely seriously".
'Helpful trigger'
Mr McGee said the trust had "instructed external experts to undertake a robust review of our mortality data and internal processes to enable us to fully understand what is causing the George Eliot to record a consistently high rate".
"We are committed to being totally transparent about this issue and we expect the review to provide a reliable conclusion as to what we need to change to ensure our rating improves in line with other hospitals."
Medical director for the trust, Andy Arnold, said he agreed with the Department of Health that ratings were a "helpful trigger to investigate any possible underlying issues, but should not be used in isolation to rate the quality of patient care".
He added: "I would like to offer reassurance that a high mortality rating does not necessarily represent the safety or quality of care provided by a hospital and may well be attributable to a number of other factors.
"Local patients should be reassured that the quality of patient care provided by the George Eliot Hospital has been subject to several thorough reviews by the Care Quality Commission over recent months, which concluded the Trust is providing good, safe care with only minor recommendations for improvement.
"Furthermore, key indicators of quality such as infection rates continue to be amongst the lowest ever recorded at the trust."