University College Coventry launches half-price degrees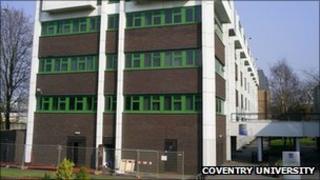 A range of half-price and flexible degrees has been launched by a Midlands university.
Coventry University said the new courses were a "first" and designed for people in work who wanted to study a full degree.
The courses will cost about £14,400, compared with an average of £27,000 for a standard degree at the university.
From 2012, students will be able to attend lectures early in the morning, late at night or at weekends.
Courses will include professional subjects such as business, legal studies, IT and accounting
'Fit around lives'
Pro-vice chancellor Ian Dunn said students could "dip in and dip out" of degrees or even "park" them if their situations changed.
"They can be at the college outside normal times, from seven in the morning to 10 at night and we're open Saturdays and Sundays as well, to fit around their lives and their work," he said.
"Students might have social responsibilities, caring responsibilities, work responsibilities. It means they can fit some study at a pace that suits them."
Mr Dunn said its offering was different to the Open University as the university was offering six-week blocks of campus-based learning across any time scale from two to nine years.
A full degree would comprise of 12 blocks, each costing £1,200.
High demand
He said: "It's different to Open University because we will offer the classes online but they can also physically attend classes here in Coventry and can be taught in a physical building.
"A full time student... who doesn't want to go away to university, who doesn't want the full university experience can come in and just pay for the high-quality education.
"We're more and more convinced that students are going to stay at home."
Mr Dunn added that he expected a high demand for the new courses, but denied that they would compete directly with existing degrees.
Up to 3,500 students will attend the University College Coventry in the campus' current Armstrong Siddeley Building.