Coventry Cathedral ruins added to international watch list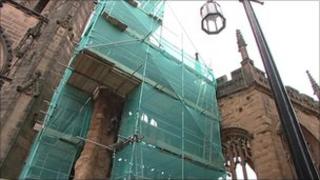 The news that Coventry Cathedral has been added to an international list of buildings worthy of preservation has been welcomed by its Dean.
The Cathedral ruins are the result of damage inflicted by incendiary bombs during World War II.
A new cathedral was built nearby 49 years ago and the sandstone ruins preserved but thousands of pounds have been spent on repairs in recent years.
The Very Reverend John Irvine described their inclusion on the World Monuments Fund's international Watch List as "the cream".
The Fund aims to highlight the architectural heritage of significant monuments, buildings and sites around the world.
Ultimately, officials at the Cathedral would like it to be designated as a world monument to civilian victims of war.
'Very grateful'
A fundraising campaign was started last month after the site's director said part of the ruins were in danger of collapse.
The appearance of a crack led to the erection of scaffolding.
More than £350,000 was spent on repairs to the Cathedral ruins last year.
"Stabilizing the ruins will be a first step in preserving this important landmark and renewing this sacred site," the World Monuments Fund said.
Although no money is released by being added to the Fund's list, Mr Irvine said he was hopeful the new recognition would lead to further financial support.
"It's very good news. It's great for us and for the city," he said.
He added: "Although the fund does not mean we get any money, it does mark us out and underline how important the site is and how important Coventry is and we hope very much that will lead to the release of resources from elsewhere to help keep the ruins standing."
He said he hoped grant-based or philanthropic groups would be interested in supporting the site and recognise the "increasing danger" the ruins were in.
He said that while the sandstone was "pretty" to look at it had deteriorated after being exposed to the elements for the last 70 years.
Peter Woodward, chairman of the Friends of Coventry Cathedral, said the new status would focus "global and national attention on the precious ruins".