Concern as Coventry Charterhouse put up for sale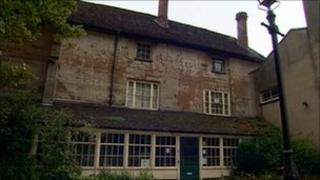 City College in Coventry is coming under pressure following its decision to put an historic building up for sale.
The college said it wished to sell the Charterhouse, which dates back to the 14th Century, after it moved into new buildings in the city.
However, a trust set up with the aim of taking over the building, believes it should be given back to the city.
The trust has now been backed by the Architectural Heritage Fund charity.
The building, off London Road, was legally given to the college and since then thousands of pounds have been spent on it.
'Left in perpetuity'
Jim Edwards, director of estates at City College, said: "We have an obligation as a public body to achieve best value.
"We are going to go out to the market and see what is out there in terms of trusts, the National Trust maybe, English Heritage and other bodies."
The Charterhouse was originally part of a Carthusian Monastery and the foundation stone was laid by King Richard II.
However, Ian Lush, chief executive of the Architectural Heritage Fund, believes it should be reopened to the public.
He said: "What's important is that the building was left in perpetuity to the people of Coventry as a sort of charitable gift.
"It's very possible for charities to take on projects like this... and that the idea of a transfer of an asset which is held by a public body to a charitable body is a very well recognised one and one that we would support."
Property developer Ian Harrabin, which is behind the new trust, said: "It's a costly building to maintain and it's restricted to educational use anyway, so from anyone else's point of view it's a bit of a liability"