Plans for 800 homes in Shottery refused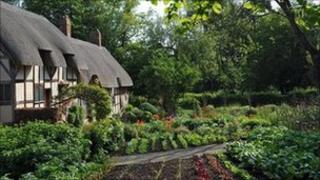 Plans to build up to 800 homes near Stratford-upon-Avon have been rejected by councillors.
Officers at Stratford-on-Avon District Council had recommended accepting the plans, which would have also included plans for a primary school, a health centre and shops in Shottery.
However, the planning committee refused them on Wednesday night on the grounds of the development's "density".
The developers said they were "extremely disappointed".
The chair of the planning committee, Sir William Lawrence, said the proposals for the land, south-west of Alcester Road, were rejected "purely on the density" of the housing development.
He added: "Up to 800 houses round the back of Shottery is almost like a new town."
Appealing decision
Sir William said the council agreed there was a need for new homes, but not to this extent in one area.
The report that went to the planning committee highlighted concerns the development could have on Anne Hathaway's cottage and its immediate surroundings.
A spokesman for developers Bloor Homes and Hallam Land Management said they would be appealing against the decision.
He added: "We are extremely disappointed.
"We are also saddened that after two years of detailed discussions with the council about the proposals, which are essentially its own plans, that members have chosen to ignore the clear findings of the research that they themselves commissioned on future housing requirements."