Coventry cathedral ruins in danger of collapse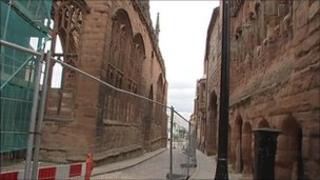 Parts of Coventry's cathedral ruins are in danger of collapse, the site's director has said.
An urgent fundraising campaign has been started to raise money to repair the weather-damaged wall adjoining Bayley Lane, currently held up by scaffolding.
The estimated cost of repair to the structurally-unsafe 14th Century building is £250,000.
Cathedral executive director, Jane Woodward, said a crack had "suddenly appeared" through part of the stone.
She added: "You could see daylight through the crack, so we took immediate steps to put scaffolding up and the road had to be closed.
"We carry out an ongoing survey of the cathedral but this damage has taken us by surprise and it's very upsetting."
'Commemorate communities'
More than £350,000 was spent on repairs to the cathedral ruins last year, which was expected to make the building structurally secure until 2013.
To raise interest and funds, officials at the cathedral said it could be designated as a world monument to civilian victims of war.
Ms Woodward said: "There are lots of monuments around Britain but none at all that commemorate civilian communities.
"It means a lot to have somewhere where people can go, in Coventry, to remember people who died in the city."
Dr Jonathan Foyle, from the World Monuments Fund, said fundraising could help people to recognise the value of the ruins.
He added: "It's not just keeping it in a stable state, it's realising that it still has wonderful crypts, it still has works of art to show.
"Coventry can be really put on the tourist map if we just realise the value of the place."
Some of the cathedral's hidden treasures, like its Blitz-damaged medieval stained glass, could be displayed if sufficient funds are raised.
The glass has been stored in the cathedral's crypt for more than 70 years.