Man steals dog from Coventry RSPCA centre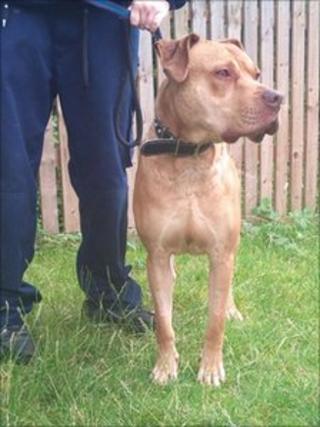 A dog with a life-threatening blood disorder has been stolen from an RSPCA centre in Coventry by a man posing as a potential adopter.
The man took Chippy, a mastiff-cross, from the site on Coundon Wedge Drive at 11:30 BST on Monday, the charity said.
He was able to take the dog for a walk after leaving house keys and a bike, but these proved to be false as he did not return for them.
The charity said Chippy could die if he injures himself.
Chippy, who is about 18 months old, is neutered and micro-chipped and "has really been through it in his life" after being seized by the RSPCA with a horrendous injury to his neck, caused by an ill-fitted collar, it added.
Staff 'gobsmacked'
The normal re-homing procedures, including asking relevant questions, were followed when the man came to the centre, the charity said.
The man, in his early 20s, has been described as having brown hair, blue eyes and a pock-marked face, about 5ft 7ins tall with having tattoos on his hands and neck.
The RSPCA added that he was wearing a grey tracksuit with a dark blue/grey cap.
Animal centre manager Glenn Mayoll said: "We are all gobsmacked by what has happened.
"The man in question was convincing as a legitimate adopter and even discussed bringing his other dog to meet the Chippy at the centre."