Brandon Marsh Nature Reserve in bid to attract rare birds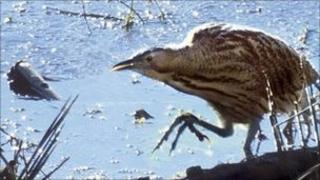 Work has begun to extend the habitat of rare birds in Warwickshire.
Pools and channels for reedbeds will be created at the Brandon Marsh Nature Reserve, near Coventry.
A spokesman from Warwickshire Wildlife Trust said the new habitat would be ideal for declining species like bittern and marsh harriers.
They are hoping the birds can be encouraged to nest permanently in the area which is a Site of Special Scientific Interest.
The project started on Monday and will take four to six weeks to complete.
It will involve excavating and re-profiling 20,000 cubic metres of soil using diggers and dumper trucks to create the pools and channels which will form the platform for the reedbed to develop.
'Diverse wetlands habitat'
Warwickshire Wildlife Trust successfully applied for £107,494 of funding from WREN, a not for profit business that awards grants to community, environmental and heritage projects.
Ian Jelley, head of living landscapes (reserves) for the Trust, said the funding would enhance an important site.
He said: "Brandon Marsh is one of the leading nature reserves in the Midlands, providing a diverse wetlands habitat.
"It is an important breeding site for resident birds and summer migrants as well as a key site for over-wintering wetland and migrant species.
"The nationally rare bittern has been a regular visitor to Brandon Marsh. By extending and improving the area of reedbed we're aiming to encourage even more birds to visit and breed here, helping to save this vulnerable species."
He added that they also hope to encourage greater numbers of snipe, reed buntings, bearded tit, sedge and grasshopper warbler birds as well as otters and water voles.