Jimmy Hill statue unveiled at Coventry's Ricoh Arena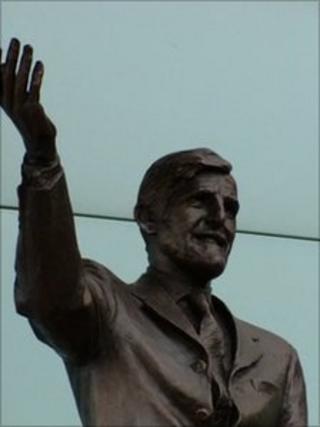 A statue of Jimmy Hill has been unveiled at Coventry's Ricoh Arena, home of the city's football club.
Mr Hill unveiled the 7ft bronze statue, the result of £100,000 raised by fans.
He is widely credited with responsibility for Coventry City's promotion to the old Division One in 1967.
He went on to became one of the best known faces in television. Former Coventry manager John Sillett said Mr Hill deserved the tribute.
Mr Sillett said: "He was a great inventor of football for me.
"He brought football into my head and taught me how to handle players."
Mr Hill managed to garner a team spirit like he had never witnessed before, he added.
Former Coventry footballer Bobby Gould said Mr Hill was a "stunning man" and brilliant as an individual.
The statue was created by Nicolas Dimbleby who said: "The challenge was to both make an iconic image that was familiar and to make it personal to me and the essence of Jimmy."