Shakespeare wedding clues 'might be in Billesley crypt'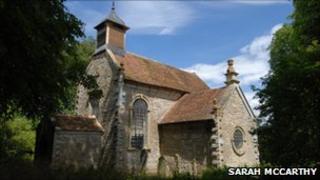 Clues as to where Shakespeare was married could be revealed when a crypt is opened in a Grade I listed church in Warwickshire, a charity has claimed.
The Churches Conservation Trust (CCT) is opening the crypt later on Thursday in All Saints in Billesley to inspect the state of the church floor.
It said it was possible a marriage licence could be found there offering proof of where he wed Anne Hathaway.
The Shakespeare Birthplace Trust said a licence was unlikely to have survived.
'Lost papers'
The CCT said All Saints in Billesley dates back to the 11th Century and was one of a handful of churches in the area, including Temple Grafton, Luddington and Holy Trinity in Stratford-upon-Avon, that laid claim to being the possible venue where Shakespeare was married.
A spokesman for the CCT said: "There is evidence to suggest that Shakespeare's granddaughter, Elizabeth Bernard, was married at Billesley and rumour has it that the crypt beneath All Saints Church holds the answer to the mystery of where Shakespeare was married, possibly in the form of lost papers or parish registers.
"Investigations, looking through the floor, have reported two sarcophaguses and a chest. But no-one has ever been into the crypt."
Records show that a licence was issued for Shakespeare's marriage to Anne Hathaway on 27 November 1582, who was mistakenly recorded as Anne Wakely.
The following day a bond was issued to men who testified that the couple would stand by the terms of their marriage licence, but it did not specify where the couple were married.
A spokesman for the Shakespeare Birthplace Trust, a charity that promotes the works, life and times of William Shakespeare, said: "People want to know where Shakespeare was married because it is a mystery and it is the missing piece of the jigsaw about his life."
He said St Andrew's Church in Temple Grafton, Warwickshire, was Anne Hathaway's parish church and the most likely place for the couple to have wed.
The spokesman said the marriage licence would normally have been given to the couple and in some cases a copy would also have been stored in the parish, and where these survived they would have been given to the local authority's record office to store.
He said no such documents had yet been found.
"There is no reason to believe those documents would survive or be kept in a tomb," he added.