Coventry's War Memorial Park reaches 90th anniversary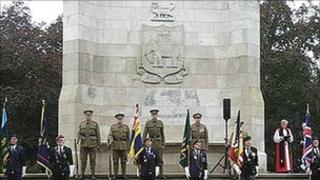 Celebrations have got under way to mark the 90th anniversary of Coventry's War Memorial Park.
A range of activities are to take place this weekend to mark the anniversary of the official opening.
The original dedication took place on 9 July 1921 after residents raised £31,000 to buy 121 acres of land.
The idea was to commemorate soldiers from the city who had died in World War I and later all soldiers from the city who have died in conflict.
'Lasting tribute'
Residents group The Friends of the War Memorial Park will recreate the official opening as it would have been in 1921.
Sheila Adams, vice chair of the group, said: "The idea of the park was that it should be a lasting tribute to the Great War that was meant to be the war to end all wars but the meaning of the park is still just as relevant today."
The 90th anniversary commemorations started at 1430 BST - the time the opening and dedication started in 1921 - close to the tennis pavilion.
Councillor Phil Townshend, Coventry City Council's cabinet member of parks and sport, will open the event which will also include a reading of the mayor's original address from 1921.
Other attractions include a sing-along of songs from the period, free traditional tennis and 1920s games and sweets for children.