The 2012 Olympic torch visits Coventry city centre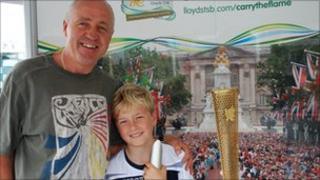 The prototype for the 2012 Olympic torch relay has visited Coventry city centre.
Visitors to the Millennium Place torch relay roadshow have been able to hold the 80cm tall perforated gold torch for one day.
Suggestions are also being invited for inspirational members of the community to be part of the relay.
To nominate, visitors can sit in a Coventry-made London taxi to record a video message.
Andrew Kakooza, a student at Coventry University, was interested to see the torch.
He said: "Not a lot of people get the chance to see the torch.
"I think it's cool and I'm looking forward to watching the games next year. It's brilliant the Olympics are going to be in Coventry so we don't only have to go to London."
Coventry Athens link
Phil Bowser, from Binley in Coventry, visited the roadshow with his son Harry. He said: "I had to come here today to look at the 2012 torch because I carried the Olympic torch prior to the 2004 Olympics in Athens.
"It was a very proud moment, as you can imagine. I was nominated for raising thousands for charity in 27 marathons."
Eight-year-old Harry said: "I didn't really know that he was a torch bearer before but I'm really proud. He came to my school to talk about it and all my friends were looking at me."
Coventry games
Eight thousand Olympic torches will be manufactured by Premier Sheet Metal of Coventry, using an aluminium alloy normally used for aeroplanes and cars.
Coventry will be an overnight stop for the Olympic torch on 1 July next year as it journeys across the UK in the run-up to the opening ceremony in London on 27 July.
The Ricoh Arena in Coventry will host a total 12 men's and women's Olympic football matches under its new name for the occasion, the City of Coventry Stadium.