Warwick councillors vote through dog control orders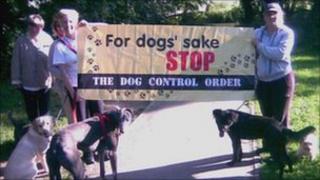 Dogs in Warwick will have to remain on leads in some areas following the introduction of dog control orders.
Warwick District Council said it had decided to introduce the orders for several reasons including damage done to land by dogs.
It said some dog owners failed to clean up after their pets and there were reports of dangerous dogs being off their leads.
Protests and a petition were organised against the orders by dog owners.
The orders mean pet owners can be fined for failing to remove dog faeces, not keeping a dog on a lead and allowing a dog to enter land from which dogs are excluded.
The order covers cemeteries, public the racetrack at Warwick Racecourse, Jephson Gardens in Royal Leamington Spa, the footpath as it crosses Newbold Comyn Golf Course and sports grounds being used for authorised sporting facilities.
A council spokesman said it had been brought to their attention that many dog owners believed the council intended to restrict dogs being exercised off lead across many open spaces in the district.
Public concerns
He said: "This is simply not true and never has been."
He said plans for Newbold Comyn had only ever considered the golf course, not the full extent of the Comyn, plans for Warwick Racecourse had only ever considered the racing circuit, not land within the course, and there were no plans to introduce controls in Abbey Fields or elsewhere in Kenilworth except the children's soft surface play area and the cemetery.
"Indeed several of the areas under consideration are already covered by historic byelaws so this is just an exercise to update the position," he said.
Richard Hall, head of environmental services, said: "From the public feedback, it appears that the original wording of the dogs exclusion order has led to concerns that the council could extend this to other areas without prior consultation.
"There are definitely no plans in the future to designate any other areas."