Dordon library could become dance school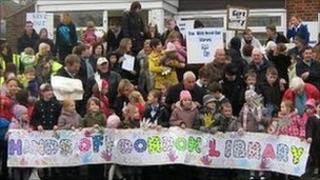 Sixteen local community groups have developed creative plans to try to save their local libraries, including one that proposes to share the building with a dance school.
Warwickshire County Council held a 12-week consultation on plans to close 16 of its 34 library buildings.
During that period, the Friends of Dordon Library committee was created.
It is one of the community groups that is proposing to take over the library service from the council.
Dance school plan
Amanda Genge from Friends Of Dordon Library has put together a bid that would combine the north Warwickshire library with a local dance school.
She said: "We decided the most viable way was to share the building, so we have put in a bid to rent the library to Hartz Dance School for part of the week and to run the library with local volunteers.
"We've put leaflets in every door asking for volunteers and we would hope to open at hours which are more beneficial to the village."
The proposal also allows for expansion, offering the space for community events like senior citizen coffee mornings, homework clubs, internet cafe evenings and craft clubs.
Community before profit
The business plan covers current running costs and the costs of alterations needed to provide partitions and mobile shelving necessary to share the space as dance school and library.
The group plans to register as a charity, with a focus on saving local services rather than profit.
Ms Genge said: "As a small community, with a limited bus service, we feel it is essential that we keep an access to free books within our village.
"It is vital to help the children with their education, through internet access as well as books and the library is also a place for all the community to come together.
"The thought of losing the library has come as a real blow to the people of Dordon, we can only hope now that we are successful and that possibly we can make more use of our library."
Consultation response
The library buildings facing closure are: Baddesley, Bedworth Heath, Bidford on Avon, Binley Woods, Bulkington, Camp Hill, Dordon, Dunchurch, Harbury, Hartshill, Henley in Arden, Keresley, Kineton, Kingsbury, Studley and Water Orton.
In addition to 10 petitions, the consultation on the future of Warwickshire Library and Information Service received more than 4,500 consultation questionnaires and more than 500 letters and e-mails.
The council will consider the feedback it has received ahead of a cabinet meeting on 14 July.