BBC Coventry & Warwickshire's HS2 debate in Kenilworth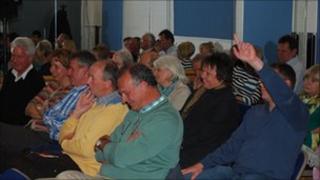 BBC Coventry & Warwickshire held a public debate over HS2 high-speed rail plans, chaired by presenter Shane O'Connor.
The panel at the Kenilworth Youth and Community Centre represented views for and against the London to Birmingham route and were brought together on Sunday, 12 June to discuss and hear public opinions on the plans.
The experts were Alan Marshall from Rail News, Jerry Marshall from Agahst, John Morris from Birmingham Airport, Chris White MP and Jeremy Wright MP.
HS2 Limited was asked to take part but declined.
Summarising their positions, the panel outlined the following:
Jerry Marshall, from Agahst
"The problem is the economic case doesn't stack up. The costs are more than the benefits."
Alan Marshall, from Rail News
"Last November Network Rail published its route utilisation strategy for the West Coast Mainline and another contemporaneous one with it for the Chiltern line in the Midlands.
"These strategies said that the West Coast Mainline is nearly full to capacity. That's not me saying that, that's Network Rail saying that."
Chris White MP
"I think it is excessive in cost, incredibly damaging to our environment and I think it will be damaging to our region."
Jeremy Wright MP
"The first problem with HS2 is the business case, there are serious flaws with the business case for HS2. The other problem with HS2 is that it simply follows the wrong route.
"If you're going to do high speed rail you should follow an existing transport corridor. That way you do less environmental damage. If you're going to do this, you should do it properly."
John Morris, from Birmingham Airport
"At the end of the day this is all about people, whether or not you're directly affected by the line or whether or not you're one of the people for example in the Black Country in Birmingham that's been out of work for a long time and for whom this railway might bring some hope."
Your views
You can still add to the debate via Twitter at: @bbccov_newsroom #BBCCWHS2.
The HS2 consultation road show is in Abbey Fields on 13 and 14 June before moving to Hampton in Arden on 15 June.