Student returns from life as intern for Annie Leibovitz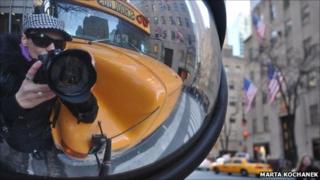 A Coventry University student has returned home after spending three months as an intern for photographer Annie Leibovitz.
Marta Kochanek, who's originally from Poland, was offered the placement after getting her work noticed and included in international competitions.
After living in New York and working on Leibovitz's archive, Ms Kochanek is now filled with ideas for her own work.
She has described her time as "a short stay on a different planet".
Dream of a lifetime
Now back in Coventry, she is gearing up for her degree show and planning several future photography projects.
However, her time in New York will be something she will never forget - from meeting Annie Leibovitz for the first time, to visiting Strawberry Fields, a place she had wanted to see since she was 16.
Looking back, Ms Kochanek said: "It is something I always wanted to do, as it really was a dream of my lifetime. I have been waiting 10 years to make it happen and I am proud I was able to do it myself.
"It was a long way, hard, and productive, but it was worth fighting. As I nearly ended the university chapter in my life and made steps towards a professional career, I wanted to visit places where well-known photographs are kept."
Ms Kochanek's main task was to coordinate the archival project and was asked to organise, archive and inventory prints.
"I was the one and only person responsible for each step within that space."
John and Yoko
The photos were mainly pre-digital and ranged from 1970 to early 2000. Over the years, Leibovitz has photographed a host of stars of stage, screen and music, including Demi Moore, John Lennon and Yoko Ono, and Whoopi Goldberg.
Ms Kochanek said: "Preparing for my role of being an archivist, I went through different sources, read articles and interviewed other archivists, slowly becoming familiar with rules, methods and strategies.
"I got the knowledge to be ready to develop my own strategy while working in the archive."
While in New York, Ms Kochanek also found the time to participate in an exhibition. Her work was chosen for the Verge Art Brooklyn - 1st International Brooklyn Art Fair.
One of her current projects is called Queerists and explores the ideas of gender and identity, focusing on the gay and lesbian community expressing themselves through art. The first individual exhibition of the project will be launched in June.