Calls for Coventry to mark Whittle's jet anniversary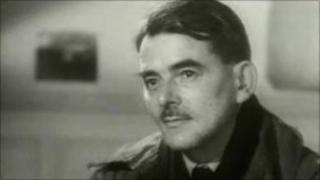 The jet engine, invented by Coventry's Frank Whittle, was first successfully flown 70 years ago this month.
There are no official plans to mark the anniversary in Coventry on 16 May, despite growing public support.
Comments to BBC Coventry & Warwickshire included "it shouldn't be forgotten" and "it's one of the greatest inventions of the 20th century".
The Midland Air Museum will hold an exhibition and has added to the calls for an event to mark the occasion.
Chairman of the board of the museum, Barry James, said that with Coventry City Council's permission he would be happy to temporarily move some of their exhibits to the city centre.
He suggested the Millennium Place area with Sir Frank's statue and the Whittle Arches would be an ideal location.
However, he conceded a fly-past may not be practical, saying: "It would be something that would capture the imagination of the people but it's not cheap and it can potentially have its hazards."
Coventry City Council confirmed it had no plans to mark the anniversary, but has made no further comment.
Frank Whittle was born in Coventry on 1 June 1907. He joined the RAF on his third attempt - originally thwarted by his slight stature - and put his mathematical and engineering skills to use in developing the idea of a jet propelled engine, submitted for a patent in 1930.
It took until 1935 to secure financial backing to build a test engine, which was further developed until the first flight was made from RAF Cranwell on 15 May 1941.
In the United States the technology was enthusiastically embraced and less than 18 months later, with Whittle's assistance, the first American jet fighter aircraft took to the skies.
Whittle retired from the RAF in 1948 with the rank of air commodore. He was knighted in the same year and became a research professor at the US Naval Academy at Annapolis. He died on 9 August 1996.