'Lost' guildhall tapestries found 30 years on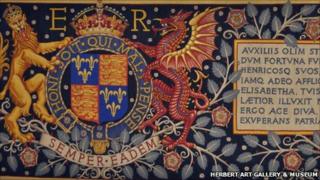 Two tapestries which were believed to have been lost 30 years ago have been discovered at the Herbert Art Gallery & Museum.
The pieces were originally hung at St Mary's Guildhall, but were removed and then misplaced when alterations were being made in 1980.
The search recently resumed during research for an exhibition on the artist, MacDonald "Max" Gill.
The tapestries were found in the museum's basement and may return to the guildhall.
Another of their tapestries, decorated with historic Coventry figures, was unveiled as a frieze in the Old Council Chamber in 1936.
Verses and heraldry
Coventry City Council commissioned two further tapestries for the Great Hall and it is these two tapestries which have been rediscovered.
They were originally placed over 19th Century wall paintings on which they are based and include Latin verses and heraldry of Queen Elizabeth I and Edward the Black Prince.
They were removed to make way for a display case in the hall and it was then the paintings underneath were rediscovered and restored.
Despite plans to move the two Morris tapestries, they were somehow lost, and even feared to be stolen.
Speaking about the discovery, St Mary's Guildhall manager Marcus Lynch said: "I'm delighted.
"When you have collections to care for, it's awful when there's a gap somewhere, even if it's long before my time and it's assumed that the item is lost forever.
"It's great that the tapestries are still in good condition and the discovery can also help researchers who are putting an exhibition on the designer."
A MacDonald Gill exhibition is at the University of Brighton from 22 July.