Coventry travellers speak out as site law is debated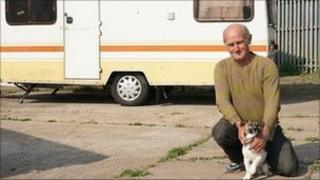 Travellers living on a council-run site in Coventry have condemned it as a "tip" and say they should be treated as humans and not animals.
The claims come as the government consults on new laws relating to traveller and gypsy sites.
The new laws would close the loophole that allows travellers to apply for planning permission after developing land.
In return, the government promises a "fair deal" and a simplified system.
On Coventry's Siskin Drive site travellers are suspicious of the proposals, which would give more power and responsibility to local authorities.
Living in 'hell'
After 27 years on the brownfield site, three generations of one family say they have had many broken promises from authorities.
One traveller, who wanted to remain anonymous, said: "It's hell living here. There's one toilet shared by every family here. The council should put it right."
The government intends the new "light-touch" planning laws to "provide a fair deal for traveller communities and settled communities" by protecting greenbelt land and making local authorities responsible for identifying suitable alternative sites.
Before a visit from BBC Coventry & Warwickshire, the Siskin Drive travellers had not heard of the proposed new laws or the consultation process.
State of the site
They want Coventry City Council to do more, or to allow them to make improvements themselves: "They provide for all the local people and give houses with hot and cold water, toilets everything.
"But we have nothing. We're not animals, we're human beings."
Her daughter added: "Compared to other sites, this is a tip."
A spokesperson for the council said: "We have had some concerns about the state of the site at Siskin Drive, however we have encountered some difficulties in carrying out necessary works.
"There is an ongoing dispute concerning ownership of part of the site but potential legal action prevents us from talking further about the issue at this time."
The consultation period into the traveller site policy began on 13 April and ends on 6 July 2011.