Traffic lights will be removed in Coventry improvements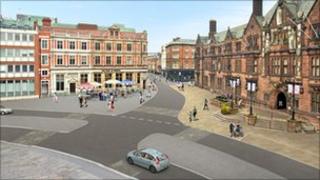 Coventry City Council has revealed plans to remove traffic lights on junctions in the city centre.
As part of planned improvements in time for the Olympic Games in 2012, junctions outside the council house, Bull Yard and old Grammar School will be altered.
The traffic lights will be removed in a bid to declutter the city centre and enable free-flowing traffic.
BBC Coventry & Warwickshire has been receiving reactions from the public.
Mal Mutton, who chairs the Coventry 2012 panel, said: "The plans involve us improving some of the connections to the city centre and giving the streets and pavements back to the people."
Views from the public range from approval for the appearance of the proposed junction to fears about pedestrian safety and traffic congestion.
Coventry will host Olympic football at the Ricoh Arena for the games in addition to creating the Godiva Awakes project.