Shakespeare's last home is focus of archaeological dig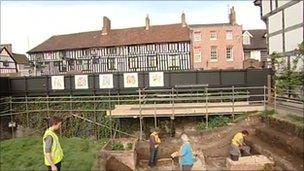 Archaeologists have begun delving into layers of Tudor soil untouched for 400 years as they resume a dig on the site of William Shakespeare's last home.
The dig is being carried out at New Place, in Stratford-upon-Avon.
For the next seven months, visitors to Nash's House and New Place will be able to watch the team of archaeologists and volunteers at work.
The live archaeological project will explore foundations and other remains thought to date from Shakespeare's era.
The foundations were uncovered shortly before the dig was put under wraps for winter.
Dr Paul Edmondson, head of learning and research at the Shakespeare Birthplace Trust, said: "We are now down to virgin ground which has not been excavated by previous expeditions.
"This is where we have the most exciting potential to shed new light on Shakespeare's life and times."
Finds so far include roof tiles, pottery and animal remains which experts from the trust say suggests that New Place was at times a high status household, with venison, and salt and fresh water fish supplementing the diet of meat from cows, pigs, sheep, geese and chickens.
An exhibition of key finds from the first phases of the dig will be on display to visitors at Nash's House, together with new artefacts unearthed this year.
New Place was purchased by William Shakespeare in 1597 and became the main residence of his wife Anne Hathaway and their daughters.
In 1610 Shakespeare retired and took up permanent residence at New Place where he lived until his death in 1616.
Related Internet Links
The BBC is not responsible for the content of external sites.