MP criticises Coventry soldier child custody case judge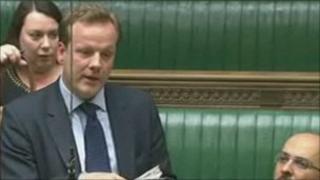 An MP has criticised a judge over the case of a soldier from Coventry who has been prevented from seeing his daughter before he is deployed to Afghanistan.
The Commons heard the soldier, referred to only as Tommy, was denied access to his child by the mother in January.
His request to see his child to say goodbye before he went to war next week was turned down by a judge who said he had to wait till October for a hearing.
Charlie Elphicke MP raised the issue while introducing his Children Bill.
'Unreasonable request'
The Dover and Deal Conservative MP said there should be "a clear presumption in law," and "a clear and enforceable right" for children to know both of their parents, in the event of a family separation or divorce.
He is leading a campaign supported by the Families Need Fathers charity to change family law and make it a legal right for children to know both of their parents.
He told the Commons on Tuesday that the hearing had been scheduled for October to allow the family legal system and other agencies enough time to prepare the necessary information.
He told MPs: "In January he says, let me apply for a specific order so I can see my six-year-old daughter and take my leave of her before I go and serve my country and possibly don't come back.
'Shame and outrageous'
"And he applies to a court, and the judge at the hearing, is he sympathetic, does he allow Tommy to take leave of his six-year-old daughter before he goes off to war?
"The judge said it was unreasonable of him to ask to see his daughter and he should wait til October 2011, before the court would resume proceedings."
Mr Elphicke's comments were met in the Commons with cries of "shocking", "shame and outrageous."
He added: "That Judge at Leicester County Court I wholeheartedly condemn for living in an ivory tower, having no idea about the real world, no idea about the feelings of parents wanting to see their children."
Mr Elphicke's Children Bill was unopposed at the first reading in the House of Commons debate but is unlikely to become law due to a lack of parliamentary time.