Warwick University plans maximum £9,000 tuition fees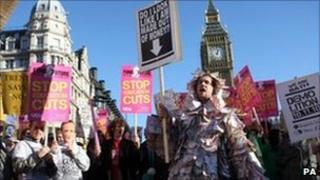 The University of Warwick plans to raise tuition fees to the maximum level of £9,000 per year from 2012.
The campus institution currently charges full-time EU or UK undergraduates £3,290 per year.
It said it needed the rise to cope with dramatic cuts in government teaching grants and to fund bursaries for students from lower income families.
A student union spokesman said he was "dismayed" by the planned fee rise which could damage universal access.
The proposal has yet to be agreed by the Office for Fair Access.
Student accommodation
The University of Warwick said it would offer state school students and students with full bursaries from Independent schools discounts and bursaries worth up to £4,500 per year.
On that basis, it said about 1,500 (19%) of its current undergraduate student population would qualify for some form of financial support.
The university said it already generated up to 76% of its own income by holding conferences and attracting a large post-graduate and overseas student population.
It said it also planned to invest £150m in campus infrastructure, such as student accommodation.
It claimed this expenditure would far exceed any income generated by increasing student tuition fees.
'State school myth'
Sean Ruston, education officer for the National Union of Students, said: "We are dismayed that the university has decided to become more consumer focused at the cost of providing affordable undergraduate degrees.
"We feel it could damage widening access severely and we are working to try to mitigate this effect.
"The university already offers very generous bursaries, but that hasn't produced a rise in the number of students who were on free school meals, or from the lowest economic group."
Mr Ruston said The Russell Group of 20 leading universities, including Warwick, had been told it had to improve its intake from lower economic groups and state schools.
He said Warwick attracted about 76% of its student body from state schools, which masked the fact many students were from grammar schools and came from high earning professional families, as opposed to the lowest socio-economic backgrounds.