Front-line Warwickshire Police cuts planned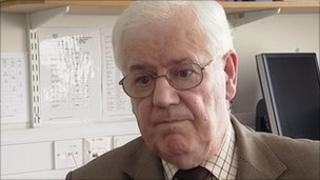 Scores of Warwickshire Police officers will be taken out of front-line policing roles and moved to support posts, the police authority has said.
The force has to save £22.9m by March 2015 and has invited civilian staff with two years continuous service to apply for voluntary redundancy.
It plans to fill the vacated posts with up to 150 serving police officers.
By law police officers serve the crown and cannot be made redundant, but they can be redeployed, the force said.
'Critical roles'
"We don't like it, they [Warwickshire Police Federation] don't like it, I don't think the public will like it, but at the end of the day we have no option," Ian Francis, the chairman of Warwickshire Police Authority, said.
The force currently has 921 police posts. In December 2010 it had 868 civilian support staff roles too.
Mr Francis said there were too many police officers in Warwickshire for the new model of policing which was being implemented across the force.
Police officers are not employed, instead they are crown appointed warrant holders and cannot be made redundant.
He said the only positions the surplus officers could be moved into were those currently held by civilian support staff.
"Much of what is currently thought of as back room is actually critical and what I would call front-line duties," he added.
'Stark reality'
Mr Francis said front-line redeployment would be carried out in other forces across England and Wales too, especially where police forces had announced massive job cuts.
He said: "The simple matter is yes we are going to lose policemen from the frontline."
Warwickshire Police Federation chairman Simon Payne said: "This is the stark reality of what cuts mean, which is we haven't got enough money to pay for the number of police we currently have in Warwickshire."
"The [government] is conning the public if they say when police numbers fall, crime won't increase.
"You only have to look at what rank and file officers have achieved in Warwickshire in the past five years. There is a stark reduction in crime levels and a direct correlation in the areas with the highest numbers of police."
Mr Francis said savings had to be made over four years, but he was only sure about police funding for the first two years.
"We have an indication of what this [funding] will be in years three and four but I am mindful of the fact of course that an election is coming up then, so will we go down the path as far as we expect? I don't know at the moment."
Previously Warwickshire's chief constable Keith Bristow said that reorganising the force would make it more efficient and give officers a more visible presence on the streets.
'Opportunities limited'
In a statement issued to police officers and staff at Warwickshire Police, he said: "Whilst the force manage the required reduction in police officers it has been agreed that some will be temporarily posted into police staff posts which are currently vacant or which will be left vacant following voluntary redundancy.
"Opportunities for individuals either currently or in the future at risk will therefore be limited over the next few years."
The coalition government has insisted that front-line police jobs can be protected, in spite of the savings they require police forces to make.
The Home Office said police forces should focus on driving out wasteful spending and increase efficiency in the back office to protect the front line.
"The Government will play its part by working with them to ensure that the savings of over £1bn a year identified by Her Majesty's Inspectorate of Constabulary are delivered," a spokesman said.
"There is no simple relationship between numbers of police and the level of crime.
"Despite officer numbers reaching record levels, according to Her Majesty's Inspectorate of Constabulary only 11% are visible and available to the public at any one time.
"What really matters is how effectively officers are deployed."