M6 reopens after four-lorry crash in Warwickshire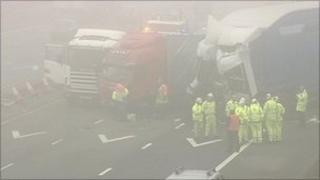 The M6 southbound carriageway in Warwickshire has reopened after a four-lorry crash that injured two drivers and caused parts of the road to close.
The crash happened at the entrance to roadworks between junction two and junction one at 0330 GMT.
Two drivers were seriously injured, Warwickshire Fire Service said.
It said the lorries had collided with each other, the central reservation and some trees. The road was reopened by 1300 GMT, the Highways Agency said.
'Severe damage'
It said diesel had spilled onto the southbound carriageway in the lane closest to the hard shoulder.
It said the road would remain closed overnight for resurfacing work between 2200 GMT and 0600 GMT, it added.
Barrier damage has already been repaired.
Four ambulances and a rapid response vehicle were sent to the scene.
A West Midlands Ambulance Service spokesman said: "Two of the lorries had suffered severe damage.
"A 38-year-old man from Attleborough, in Norfolk, was trapped for at least 90 minutes.
"He had chest, pelvic and lower limb injuries."
The man was immobilised using a neck collar and spinal board and taken to University Hospital Coventry & Warwickshire.
He added: "The driver of a second lorry had back pain. He was immobilised before being taken to the same hospital.
"Two other drivers were checked over by ambulance staff before being discharged on scene."