Zandra Rhodes to dress Lady Godiva Olympic puppet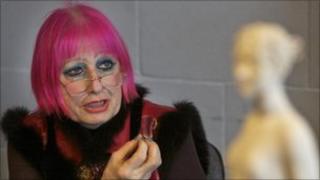 Zandra Rhodes is to create clothing for a 30ft (10m) tall puppet of Lady Godiva as part of the Cultural Olympiad.
The fashion designer is helping to make a corset and gown for the puppet of the 11th Century noblewoman.
The legendary figure is famed for riding naked through the streets of Coventry to try to get taxes lowered.
The puppet will be at the centre of Godiva Awakes, a £500,000 event in Coventry city centre in July 2012, in the build-up to the London games.
Coventry is one of the host cities for the men's and women's Olympic football tournaments.
The designer, who has dressed Freddie Mercury and Diana, Princess of Wales, said Lady Godiva would also have gold hand-painted decorations on a flared skirt and trailing sleeves and a corset decorated with mirrored flowers.
Hundreds of dancers, actors, aerialists, musicians, pyrotechnicians, carnivalists and local youngsters are set to be part of the £500,000 Arts Council England commission.
It will see Lady Godiva be unveiled for the modern age and then travel to London to celebrate the 2012 Games, powered by a team of 50 cyclists.
'Cutting-edge facilities'
Ms Rhodes, who will be working with students from Coventry University, said: "Designing the corset and gown for Godiva Awakes will be a fantastic challenge.
"I am already thinking about sheer, transparent fabrics that will hold the right shape but create the fantastic illusion for such a historical, important icon.
"I am also looking forward to trying out some new techniques through working with students at Coventry University and using the cutting-edge facilities they have there."
Lady Godiva's top coat and train is being created by a team of textile and glass artists from across the West Midlands.
The aim is to showcase crafts and industries from across the region and feature the chain makers of the Black Country, the potteries in Stoke-on-Trent, computer gaming in Leamington Spa, glove making in Worcester and glass making in Stourbridge.
Godiva Awakes is one of 12 regional public art commissions to celebrate the London 2012 Cultural Olympiad, funded by Arts Council England.