Up to 500 council jobs in Coventry to be shed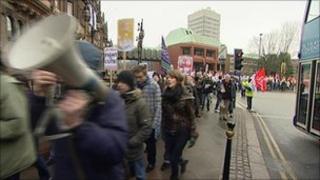 About 500 jobs, 100 of them managerial, are likely to go at Coventry City Council.
The council has said it is facing an overall reduction of £18.7m to its grant funding from the government.
This is in addition to another £20m which will go following cuts to specific grants, the council said.
These specific grants include a scheme to provide short breaks for disabled children, the Connexions Service and a £2m cut from education services.
'Painful decisions'
The council said it was accepting more than 250 applications for voluntary redundancy or early retirement, with more likely to leave through the programme over the coming months.
Councillor George Duggins, deputy leader of the Labour-led authority, said the council was facing unprecedented cuts to public services.
"Our budget proposals focus on making savings through efficiencies and transforming services as far as possible, but the scale of cuts to government funding means we have to be prepared to make painful decisions in order to support our most vulnerable residents and continue to provide vital services to the people who need them most," he said.
The council has set aside £500,000 to spruce up the city in preparation for its role in the London 2012 Olympics. The city has been chosen as one of the venues for football.
Mr Duggins said the council wanted to seize a "once in a lifetime opportunity" and build on the pride Coventry people already have for the city.
The council will meet to discuss budget proposals on 15 February.