Coventry City Council redundancy talks 'tense'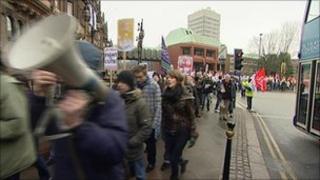 Union negotiators say jobs talks with Coventry City Council are "tense," and fear compulsory redundancies are looming.
Unison's Coventry branch secretary, Sarah Ferguson, said 650 council staff had applied for voluntary redundancy, but only 170 had been accepted.
Since the council expects to lose 300 staff this year, the union says forced job losses are a threat.
A council spokesman said they were still going through the applications.
Ms Ferguson said: "We're saying to the council 'why won't you let people go?'
"We're worried we're in the realms of compulsory redundancies, and we're not having that."
She said there had been "frank and forthright exchanges of views" during negotiations, and the atmosphere was "tense".
Coventry City Council have plans to save £146m by 2014.
A spokesman said: "It is a complicated process as we will not be able to accept all applications.
"We have now decided to progress with the approval of 170 requests for voluntary redundancy or early retirement and we are working through the rest of the applications."