Solicitor calls for Atherstone fire deaths decision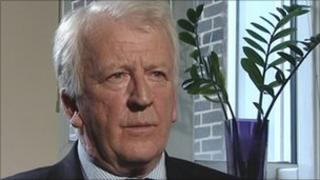 A solicitor is urging police to charge or release from bail six firefighters arrested over the deaths of four colleagues in Warwickshire in 2007.
Twelve people were arrested last year after a large warehouse fire at Atherstone-on-Stour.
Chris Humphries has written to police complaining his clients have been physically and psychologically affected by the lengthy £4.5m investigation.
Warwickshire Police said it was its "largest and most complex" inquiry.
The bodies of Ashley Stephens, 20, John Averis, 27, and Darren Yates-Badley, 24, were found in the charred remains of the factory in November 2007.
'Make a decision'
A fourth firefighter, Ian Reid, 44, died later in hospital.
The force and the Health and Safety Executive (HSE) started their investigations immediately after the incident. The arrested men were questioned in February 2010.
But Mr Humphries told BBC News that the police should come to a decision.
He said: "We believe their arrests were unlawful, we believe their detention at the police station was unlawful and we believe their continued arrest is unlawful and the police should make obvious and instantly a decision to release them from that arrest."
He said he had yet not heard back from Warwickshire Police.
David Capron, who was the fire service chaplain at the time of the deaths and is still a vicar in Alcester, said he believed the community was increasingly frustrated at the length of time the inquiry was taking.
He said: "I think really what's happened is that people are saying 'what the hell is going on?'"
"It's very embarrassing and a bit difficult because we get on so well with the local boys in blue here.
"They're absolutely great.
"It doesn't help relationships at all when firefighters are dragged in. The feeling is, it's cost a hell of a lot of money, it's taken a hell of a long time, what is going on, what are they doing?"
Last October the force said the investigation, which has received a Home Office Special Grant of £3.45m, was drawing to a close.
In a statement, the force said its evidence had now been passed to the Crown Prosecution Service (CPS).
"There is a lot of information and we would expect the CPS to take time to consider this carefully in order to reach a fair and proportionate decision.
"This is a crucial stage and it is of the utmost importance to all concerned that due care and consideration is given to what has been a most detailed and thorough investigation.
"Warwickshire Police is aware of the public desire to bring the investigation to a conclusion, but believe that the CPS needs to take time to deliberate on all the information which has been presented to them so that the right decisions are made and justice is, and seen to be, done.
"We have done everything we can to keep those concerned informed of developments and reasons for the delays during the past year, and are now confident that the investigation will be drawn to a close in the very near future."