Warwickshire and West Mercia forces confirm 'alliance' plans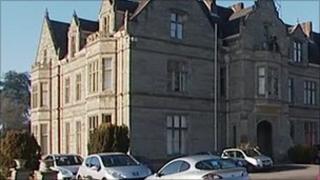 Warwickshire and West Mercia Police forces have said they are considering forming a "strategic alliance", as they face a budget cut of almost £60m.
The two police authorities have asked their respective chief constables to explore the idea with recommendations known by May, a spokesman said.
Warwickshire Police must make savings of nearly £23m while West Mercia face a £34m cut over next four years.
Last week, the Warwickshire force said it planned to sell its headquarters.
The Leek Wootton headquarters has been its home since 1949.
Last month, the force said up to 450 jobs could go after its estimated budget deficit rose from £13.4m to about £22m.
'Share services'
West Mercia officials have said almost 300 jobs will go by 2013.
In a statement, the two forces said a team was now looking at proposals for more "efficient and effective policing services that maintain or increase levels of protection to local communities".
But both forces and police authorities said the announcement does not mean it is a merger.
"Each force would retain its identity and governance arrangements through its police authority and will continue to set and manage its own budget and policing priorities based on the needs of local communities," a spokesman said.
Both forces already share a number of services with others forces including police air support and counter terrorism work.
'Exciting plan'
Sheila Blagg, Chair of West Mercia Police Authority said the forces have "more similarities in policing style, budget, culture and values than differences".
"There is a desire to build upon these similarities and closely examine the potential of a two force partnership which, if taken forward with a shared purpose, drive and vision, would enable benefits to be delivered more quickly than any other form of alliance," she said.
Ian Francis, Chair of Warwickshire Police Authority said the proposal was "exciting".
"We are all very excited by the potential additional value that a strategic alliance can deliver, both financially and in terms of protection for local communities," he said.