Coventry city centre's £7m revamp on display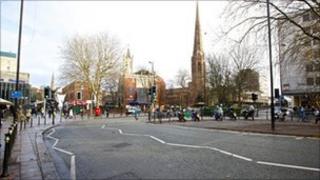 Plans for major changes to Coventry city centre are going on display.
The £7m facelift has been aimed at making Broadgate, the Bull Yard area and Greyfriars Green look their best for the Olympics.
Football is to be played at the city's Ricoh Arena and athletes are to train at the University of Warwick as part of the 2012 Games.
Plans were being put on display at what used to be Bakers Oven in Shelton Square in the city centre.
In a separate scheme, plans for a £1.5bn redevelopment of the centre of Coventry were approved by councillors in January 2010.
Proposals include new office buildings, hotels, flats, shops, restaurants and bars over 15 years.