Warwickshire Police to sell Leek Wootton headquarters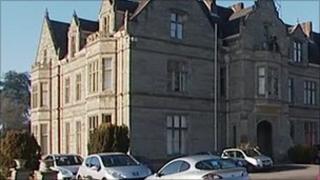 Warwickshire Police has confirmed it wants to sell its stately home headquarters, as the force tries to make savings of more than £20m.
Chief Constable Keith Bristow also said front desk services would be moved from several police stations to libraries and council offices.
The headquarters in Leek Wootton will be sold off.
Some sort of strategic alliance with West Mercia Police could also be considered, the authority said.
The Leek Wootton headquarters have been the force's home since 1949 when the Warwickshire Constabulary first occupied the building.
The original date of the building is not known, a spokesman said.
It was a country house and later was adapted to business premises after being a place of convalescence for US armed force during World War II.
An estimated sale figure was not known, the force said.
Speaking to BBC News, Mr Bristow said his force already worked closely with West Mercia and predicted the two would "work even closer" in the future as every force faces up to budget cuts.
Funding 'challenge'
"I know that West Mercia feel the same as they will want to be more innovative because we all face... a challenge around funding," he told BBC News.
Warwickshire Police Authority announced last September that it was looking at a possible collaboration with police in Coventry.
Andy Wright, from West Mercia Police Federation, it was the first time he had heard of the proposal.
"We've learnt today for the first time, they are considering some sort of strategic alliance," he said.
"It's the first time we've heard of it."
Justice centre
Last month, the Warwickshire force said up to 450 jobs could go after an estimated budget deficit rose from £13.4m to £22m.
The £22m figure is about a fifth of the force's total budget. It is one of the smallest forces in the country.
Mr Bristow said he hoped senior management would move out by March and be based at the "one-stop" justice centre in Leamington Spa, which opened last summer.
The centre is on the site of the old magistrates' courts in the town and combines a police station, the town's courts and criminal justice agencies.
Police stations affected by the plans from April include services at Atherstone and Kenilworth which will move to a council office and library, respectively.
"Partnership locations" are to be found for Coleshill, Shipston, Southam and Wellesbourne, the force said.