Live chicken thrown at KFC staff in Nuneaton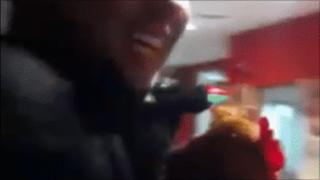 A live hen was thrown through the open window of a Kentucky Fried Chicken (KFC) restaurant in Warwickshire.
RSPCA inspectors say they want to speak to the two men who approached the restaurant in Bermuda Park, Nuneaton, on a moped on Tuesday evening.
A third man filmed the pair and the footage has since appeared on the internet.
Inspector Helen Smith, from the RSPCA, said the bird was not harmed but did suffer some distress.
She said: "It's just completely irresponsible to abandon an animal in this way."
The RSPCA is now looking for a new home for the hen, which it has named Mrs Sanders.