Nuneaton EDL demo policing 'cost £250,000'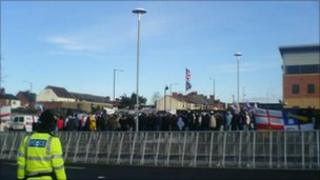 The cost of policing an English Defence League (EDL) march in Warwickshire last year totalled £250,000, a report says.
The event in Nuneaton in November was attended by 1,000 EDL members and 150 people in a counter demonstration, the police authority report said.
The operation was the biggest of its kind in Warwickshire for many years, the police authority said.
No-one was injured in the event. Ten people were arrested for a variety of offences.
Town centre businesses were not disrupted, the report stated.
The information was discussed at a police authority meeting on Wednesday.
The costs of the operation, called Operation Cavendish, are not yet finalised but expected to be in the region of £240,000 to £250,000, the authority said.