Royal Mail fails to clear backlog in Warwickshire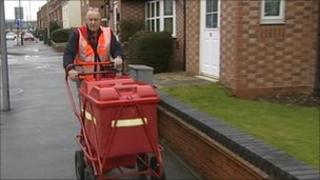 The Conservative MP for Stratford-upon-Avon will meet Royal Mail for a second time after it failed to clear a huge post backlog for parts of Warwickshire.
Nadhim Zahawi will visit the Stratford sorting office after the Communication Workers Union said about 130,000 undelivered items were at the depot.
Royal Mail has apologised for the delays and blamed changes to the way deliveries were made and the weather.
It promised the situation would be resolved by the end of this week.
The disruption centres on deliveries in Warwick, Rugby and Kenilworth.
Trolleys have taken the place of traditional delivery methods which the Communication Workers Union said were safer but were also slower, which Royal Mail had not appreciated.