'Too old' Rugby Girl Guide leader asked to be a helper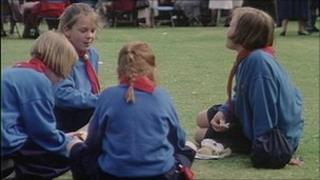 A Girl Guide group threatened with closure because its leader was deemed to be too old for the post has been told she can run it in all but name.
Margaret Stapley, 65, from Rugby in Warwickshire, has been invited by the organisation to continue volunteering.
County officials said she could attend the Rainbows group as an "occasional helper" as often as she wanted but her title would be that of assistant.
Girlguiding UK has a policy of retiring its leaders when they reach 65.
The organisation said its policy would help take guiding into the future.
Ms Stapley said: "On the Girlguiding website, which I'm not able to access because I am not a leader anymore, they are crying out for 7,000 volunteers to help with girl guiding and yet they are willing to shut my group.
"Everyone I talk to says what a crazy thing to do, that they don't want us after 65. I'm now an occasional helper."
The group was informed by letter in December that it could be shut due to the loss of its leader. The organisation clarified its position in a meeting last week and said the group could continue with a new named leader, whilst allowing Ms Stapley to take an active role.
A spokesman for the organisation said: "Following a year long consultation, Girlguiding UK has produced a new set of guidelines, which provides a clear policy to suit individuals as well as support the development of new leaders and leadership teams.
"There will no longer be a retirement age for Assistant Leaders, Unit Helpers and Commissioners but 65 will remain the maximum age for Unit Leaders, this is the person in overall charge of the unit. Members over 65 will be able to continue to take girls away on camps and holidays, wear their uniform and attend unit meetings with the same group every week."
Paul Rimen, the parent of new guide Paige, age five, from Rugby said: "I think it has to be judged on people's competency and merit, are they fit to do the job, do they have the skills associated with being able to do the post? If they do why should age be a limiting factor?"