Mail delay in south Warwickshire 'resolved within days'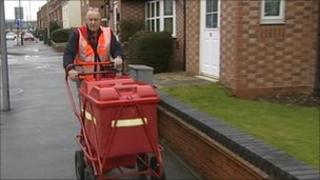 Royal Mail has said delays which have hit Warwickshire post deliveries should be resolved by the end of the week.
Thousands of items of post have been held up in Stratford, Warwick, Rugby, Leamington and Kenilworth.
Royal Mail said there had been changes to working practices but the adverse weather conditions were largely to blame for the delays.
Bob Neal, of Royal Mail, said the safety advice was not to send delivery staff out in the extreme weather.
He said in December alone three postal workers suffered fractures after falling in the snow.
Mr Neal said there was backlog of about a day-and-a-half of mail which was now being cleared.
"There's a lot of effort, there's a lot of work going on around the contingencies just to make sure the service gets back on track," he said.
"We have made some significant changes to the operation but the weather, the extreme weather, really did have a big impact - in terms of our ability not just to move mail around Warwickshire, but our ability to move mail around the country."
The Communication Workers Union said last week the delays had been caused by changes which have included "slower" trolleys and vans being used instead of postal workers cycling or walking with a pouch.