Stoneleigh Park to receive up to £50m investment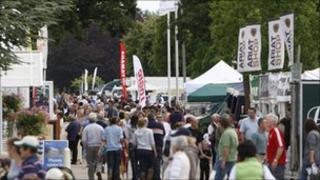 A 150-year lease has been agreed for Warwickshire's Stoneleigh Park.
LaSalle Investment Management has signed a £50m lease to secure the site's future, its owner The Royal Agricultural Society of England said.
The deal would help maintain buildings and attract new business to the site which hosted the Royal Show, it said.
The society had planned to partner with Advantage West Midlands but the regional development agency's funding was cut in the October Spending Review.
In 2010 The Royal Agricultural Society of England (RASE) said it was not economically viable to hold the Royal Show there any longer, ending a 160-year annual tradition.
'Hugely exciting'
RASE said the £50m deal did not affect its decision to cancel the Royal Show.
Its chairman Henry Cator said: "LaSalle are property professionals with vast experience of managing similar sites and we are confident that Stoneleigh Park will be developed to become the national hub for agricultural, equine and rural business, research and knowledge exchange.
"With a commitment to invest £20m by the end of 2012 and up to a maximum of £50m by 2020, this is a hugely exciting time for the site, the RASE, Stoneleigh Park and the local economy."
About 2,000 people currently work on the site and the investment should help to attract new businesses and create more agriculturally-related jobs, the society said.