Students occupy Warwick University lecture theatre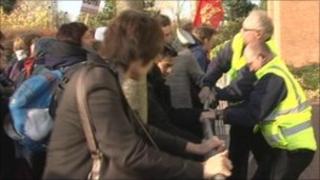 More than 70 students took over a lecture theatre at Warwick University in protest at plans to raise tuition fees to up to £9,000 a year.
It was part of a series of demonstrations at colleges and universities across the UK involving thousands of students.
They were also protesting against plans to withdraw funding from university teaching budgets for many subjects.
The rally in Warwick was largely peaceful, police said.
Minor scuffles between students and security guards took place outside and inside the centre.
'Discuss demands'
It is thought some students were planning to stay overnight.
West Midlands Police said there was "a peaceful protest at Warwick University and there had been no issues between security, police and students"
In a statement, the students said their occupation of the arts centre was a stand against the "marketisation of our education system".
"While we occupy this space we are creating a space of truly free and democratic education where we will run workshops, talks and other educational events - education that has nothing to do with profit and the market and everything to do with learning and sharing together.
"We reject the marketisation of our education system and the transfer of the cost of a public service on to students, university staff and employees."
In a list of demands on the university, the protesters said they wanted it to condemn the government's plans for the restructuring of higher education, the raising of tuition fees and the removal of public financial support for arts and social sciences.
They also want people to be able to move freely in and out of the arts centre while the demonstration continues, no punishment to follow for anyone who takes part in the rally and, finally, to discuss their demands with the vice chancellor.