Cyclists train in Coventry for Godiva project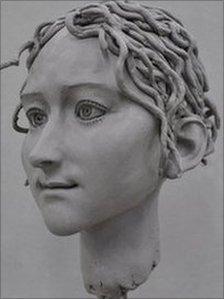 Cyclists have started training for an event to mark the 2012 Olympics which will see a giant puppet of Lady Godiva transported to London.
A specially-built "Cyclopedia" will be pedalled from Coventry to the capital, carrying the 33ft (10m) high Godiva on top of a model horse.
Those in training are being put through their paces in Foleshill, Coventry, by former cycling champion Mick Ives.
The final team of 100 cyclists will be announced in December.
It will be made up of novice and experienced cyclists recruited at the Festival of Cycling, through a public ballot and from cycling clubs across the region.
Lady Godiva famously rode naked on horseback through Coventry, but the marionette puppet will be clothed when it is transported to London.
The Godiva project was chosen to represent the West Midlands region at the 2012 Olympics, as part of a competition involving the Arts Council.
Mr Ives said: "Projects like Godiva Awakes bring the Olympics to our doorstep.
"(They) are an excellent way of encouraging people who would perhaps not normally take part in sport to get involved and enjoy something new."
Organisers said a recreated Godiva would "awake" from a chamber in a ceremony in Coventry's University Square in July 2012, which will coincide with the annual Godiva Festival.
That chamber, containing stained glass, will go on to be a permanent landmark for Coventry.
In October plans were on show to the public at the Herbert Art Gallery & Museum in Coventry, detailing how the puppet will travel.
Related Internet Links
The BBC is not responsible for the content of external sites.