Coventry link to 2-Tone music celebrated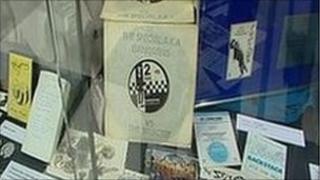 More than 30 years after Coventry launched 2-Tone, a museum has been opened to celebrate the music and the people who made it.
The 2-Tone record label produced bands such as The Beat and Selector, and even released the early Madness singles,
But it was The Specials who really put 2-Tone on the map.
2-Tone Central, which includes a cafe and live music venue as well as the museum, is in the university Students' Union.
It is a location very familiar to many of those who made 2-Tone famous.
"I wanted one place in Coventry to celebrate 2-Tone," said creator Pete Chambers, "and this is where it all happened."
And 2-Tone is far from finished. The Specials reformed last year and have been touring the world again to sell-out crowds.
Horace Panter of the band was at a preview and said he and the other group members felt very proud to have been associated with the music and the museum.
2-Tone Central was launched with a special VIP party on Friday, before opening to the public on Saturday.