HGV falls on to M6 from motorway bridge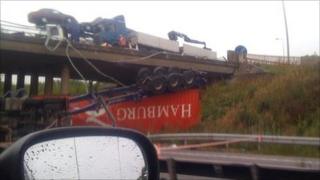 Part of the M6 near Coventry was closed because a lorry overturned then slid down the embankment on to the carriageway.
Warwickshire Police said an articulated lorry fell off a motorway bridge and crashed at junction 2 on the southbound carriageway of the M6 at 1040 BST.
The lorry driver is believed to be in a serious condition.
A southbound entry slip road at junction 2 was closed and re-opened at about 1700 BST.
'Miraculous escape'
The lorry cab and trailer blocked the hard shoulder and two lanes of the motorway when it crash landed knocking over a lamppost on its way down.
It is thought the driver was negotiating a roundabout on the A4600 above the motorway on Monday, when the lorry went through the crash barrier.
Warwickshire Police said two vehicles hit the debris left in the motorway, but avoided hitting the lorry.
"It is miraculous that no-one else was hurt really considering what happened," a spokesman for the force said.