Nuneaton MP in plea to listen to merger support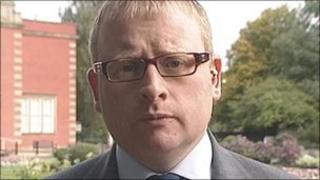 A Warwickshire Conservative MP has said he would support police force mergers if they were agreed locally and not imposed by central government.
Nuneaton MP Marcus Jones said if local people backed forces joining together, the government should support them.
He was speaking on the BBC's Politics Show in the Midlands ahead of next month's Comprehensive Spending Review.
Warwickshire Police Authority has suggested merging with part of the West Midlands force which covers Coventry.
'Based on assumptions'
Mr Jones said: "If the local forces are looking for a merger, we should take that very seriously.
"I think we should listen to what they have got to say, listen to what their business case is and how robust that is."
Mr Jones said a key test for any merger would be whether they could cut administration and deliver better frontline services.
If local people are in support of mergers, the government "should seriously listen and support any such move," he said.
In July former Gloucestershire Chief Constable Tim Brain warned that a "worst case scenario" 25% cut in police budgets in England and Wales could lead to 60,000 police officer and civilian posts being axed by 2015.
Policing Minister Nick Herbert has said the study published in the Police Review magazine was "all based on assumptions".
He said: "What we are saying is we will do everything we can to help the police protect the front line."