Force searches for constables from Coventry Blitz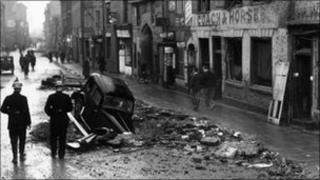 Special constables who were on duty on the night of the devastating Coventry Blitz are being sought so they can be awarded their service medals.
Coventry Police said there were 40 to 50 constables who were working on 14 November, 1940, who had yet to claim their Defence Medal.
The medal is presented to officers or their next-of-kin to commemorate their participation in World War II.
The force also wants them to help it mark the 70th anniversary of the Blitz.
The city's police service wants the former special constables to join serving and retired officers in this year's Remembrance Sunday Parade on 14 November.
On that day, Coventry will also remember the 70th anniversary of the Blitz.
An air raid siren will be heard within the city's cathedral, as part of the special memorial service as part of commemorations.
The Luftwaffe dropped thousands of tons of bombs on the city during the Blitz, killing hundreds of residents and devastating most of the city centre.
The ancient cathedral, hospitals, schools and the tram system were destroyed.
Coventry Police said they tried several years ago to trace surviving specials and their relatives and those who came forward received Defence Medals at a ceremony in Edgbaston.