Jaguar parade through Coventry celebrates 75 years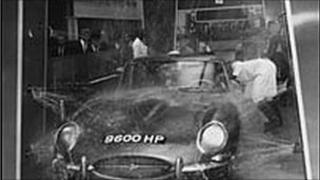 A grand parade of Jaguar cars has gone through Coventry to mark the 75th anniversary of the brand.
Seventy-five modern and vintage models travelled through the city centre before going to a heritage motor festival near Chichester.
The Lord Mayor started the drive, which will include a visit to London's Mayfair Hotel, site of the first Jaguar launch in 1935.
The individually-numbered cars from across the years include the E-type.
They will make the 175-mile journey in two days.
Most of the cars are privately-owned and driven by their owners.
They will be joined by some of the most famous cars from Jaguar's own heritage collection and a selection of its latest models.