Coventry University expert speaks on spending cuts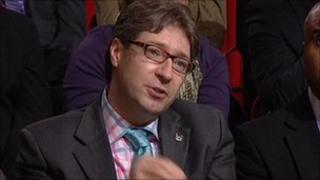 Government spending cuts will be made even worse by plans to replace the regional development agency, a Coventry business expert has warned.
Professor David Bailey of Coventry University Business School said the new Regional Growth Fund would not do as as much as Advantage West Midlands.
Prof Bailey was speaking at the BBC Midlands Today Spending Review debate in Sandwell.
It examined how public spending cuts could affect the West Midlands.
Prof Bailey said budget cuts for direct public services would be "exacerbated" by cuts to business support.
While the new RGFs had potential, they actually amounted to a 75% cut in real terms compared to the funding to the old regional development agencies, he said.
"They actually did a huge job in channelling scarce public resources to the best place," he said. "We are losing all that expertise."
The Midlands Today debate at The Public arts centre in West Bromwich was hosted by Nick Owen.
Councils across the country are bracing themselves for swingeing cuts to their budgets once the Government announces the results of its comprehensive spending review next month.