Low-key reopening for Stratford-on-Avon's RSC theatres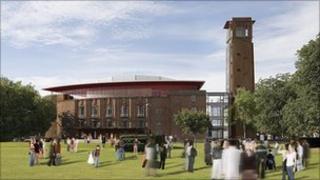 The rebuilt Royal Shakespeare and Swan theatres in Stratford-on-Avon are to reopen in November.
The Royal Shakespeare Company has spent four years and £112m redeveloping the theatres.
The reopening will be low key, with visitors invited to watch previews but with full performances not starting until February 2011.
The first plays to be performed there will be King Lear and Romeo and Juliet, the company announced.
The theatres will be formally reopened in April 2011 coinciding with the company's 50th birthday season.
New tower
RSC artistic director Michael Boyd said: "We are testing out the building with lots of lovely interactive exhibitions that the public can take part in from the end of November and then we are gradually ramping things up."
One of the things people can do when the theatre opens is to go up the new 36m (118ft) high tower.
"I think you can see something like six counties from the top, you can certainly see for miles around," Mr Boyd said.
The new theatre has seating for 1,000 people and has used the facade of the original 1932 building.
Old stage boards, once trodden by stars such as Sir Laurence Olivier, have been relaid in a space between the auditorium and foyer in the new theatre.